Share the gift of literacy.
Volunteers are the heart of our organization! 
We rely on volunteers to implement our programs as well as help with our community events and fundraisers. 
Volunteers make the mission and vision of OLC a reality!
Ozarks Literacy Council provides FREE tutoring for children and adults as well as classroom readers for preschool and elementary classrooms. In order to provide these amazing services FREE, we need volunteer tutors and readers!
Last year, OLC volunteers provided over 12,000 hours of service to the community.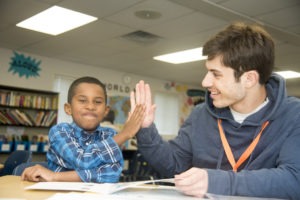 Tutor training sessions; Saturdays December 9 and January 20, 10 am - 1:30 or Monday July 17, 2:00 - 5:30 pm. All trainings are held at the Midtown Library, 397 E. Central St. Only one session is required.
DO YOU HAVE 1 HOUR A WEEK TO CHANGE A LIFE? BECOME A VOLUNTEER TUTOR
Read more about the volunteer opportunities below.
At Least 18 Years Old
High School Reading Level
Able To Speak And Write Clearly
Complete One Tutor Training Session
Pass Background Check As Related To The Tutor Duties
Commit To At Least One Year Of Tutoring (but we're flexible depending on situation)
READY TO BECOME A TUTOR? Complete the New tutor registration under the volunteer tab
DO YOU LIKE TO READ TO CHILDREN?
READING RESOURCE PROGRAM #bookit
Classroom readers model fluency, encourage imagination, and introduces students to different genres and authors.  This year we were at Williams (3rd Wednesday of every month) and McGregor (first Wednesday of every month) Elementary, #bookitmustangs #bookittigers respectfully. Volunteers read to a class on their day every month and send each child home with a free book. We also offer parent tips, class and individual incentives, and rewards for effort and enthusiasm. Springfield Public School require that every volunteer complete their background check process. https://www.sps.org/Page/5147  Complete our sign up form below and we will contact you soon. Thank you.
BECOME A PRESCHOOL READER AND HELP DEVELOP A LOVE FOR READING EARLY
Our preschool program volunteers visit SPS Wonder Years classrooms four times during the school year to read, play an educational activity, and send each child home with a free book.  Early literacy programs are important in growing readers and helping children be ready for kindergarten. Ozarks Literacy Council (OLC) strives to make kids' enthusiasm for reading expand beyond the classroom and into the child's home. OLC volunteers visit a Wonder Years classroom in Springfield each quarter.  Lessons for each visit are written to meet the developmental needs of the class. In OLC's 2022-23 survey, 100% of parents reporting re-reading the books to their children and stated their child's interest in reading had increased. (Wonder Years is a program for preschool children that will go to Kindergarten the following year.) Would you like to read to preschoolers? Complete the form below and we will contact you soon.
Help out in the office, at events, sorting and delivering books...
Volunteers at OLC are never bored. We have opportunities to help out in the office with filing, data recording, selecting books, preparing books for reading programs and delivering books. Event opportunities are varied. 
Special Events & Community Fairs
 Trivia Night and Run for Reading are OLC's most exciting Special Events! Up to 30 volunteers are needed to help at each event in many areas from ticket sales, silent auction assistants, and so much more! Additionally, OLC works to get books in the hands of children by giving away free books at Community Events such as Seuss Science Day, Juneteenth, Grant Beach Neighborhood Night Out and more. We are always in need of outgoing volunteers who would like to help give out books and promote OLC programs. If you enjoy a hands-on experience, OLC would love to have your help! Check out more information on events page.